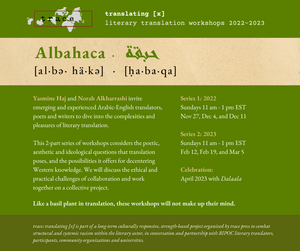 Albahaca is Spanish for "basil". 
It was, and still is, (mis)pronounced as albaqa (Arabic for "bouquet") but originates from alhabaqa (Arabic for "basil"). 
Arabic for "basil" is also reihan; it implies abundance, broad comfort, and spirit (reihān, rāha, and rūh).
NOTE: (Changed) dates for Series 2 (2023): Feb 12, Feb 19, March 5
YASMINE HAJ and NORAH ALKHARASHI invite emerging and experienced Arabic-English translators, poets and writers to dive into the complexities and pleasures of literary translation.
Each workshop in this 2-part series will focus on specific texts and questions exploring the poetic, aesthetic and ideological challenges that translation from Arabic poses to Western knowledge. The workshops grapple with the following questions:
How do we decenter Western knowledge through translation?
What kinds of poetic, aesthetic and ideological challenges does translation pose?
How do we grapple with words that bear historical traces of oppression, especially around race, gender and sexuality?
How do we work through practical challenges in translating dialects, humour and insults, or using footnotes and paratexts?
What are the possibilities of re-envisioning Arabic literary texts for contemporary readers?
Discussions on the ethics of collaboration will conclude the series, along with a shared collective translation.
Like a basil plant in translation, these workshops will not make up their mind.
DATES & TIMES

Series 1: 2022

Sundays 11 am-1pm EST | 4pm-6pm CET | Nov 27, Dec 4, Dec 11

Series 2: 2023
Sundays 11am-1pm EST/ 4pm-6pm CET | Feb 12, 19, March 5

Celebration: April 2023 (with the Dalaala collective)

TO REGISTER

a) Please fill out this form and tell us something about yourself:
b) Add workshop to cart to register your 'order'. We will confirm your registration in a few days. Please note workshops are limited to 20, and BIPOC participants and residents of Ontario will be prioritized. All workshops are FREE. We ask that you attend and participate actively in both series. Participants work will be gathered in a small publication to be launched with an online reading in April. 
OUR FACILITATORS
YASMINE HAJ is a writer, editor, and translator. She is one of the co-founders of Dalaala, a translation collective of art, cinema, and critical and literary texts. She is also the co-editor of Mïtra, a multilingual review of arts and literature. Her writings and translations have appeared in Assafir, Assafir Al Arabi, Asymptote Journal, Best American Experimental Writing, Romman, Specimen – The Babel Review of Translations, TNI, Turning Point Books, and in projects supported by the A.M. Qattan Foundation.
NORAH ALKHARASHI was born in Jeddah, Saudi Arabia and is an early-career researcher in translation studies, literary translator, and occasional artist. She has translated two novels by Edwidge Danticat into Arabic –The Dew Breaker (2019) and Everything Inside (coming soon). She received the Banff literary translation residency award in 2020. She is currently completing her PhD at the University of Ottawa where she also lectures on Arabic language and culture.
 * trace: translating [x] is part of a long-term culturally responsive, strength-based project organized by trace press to combat structural and systemic racism within the literary sector, in conversation and partnership with BIPOC literary translators, participants, community organizations and universities