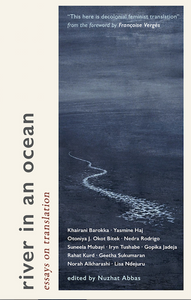 E-BOOK  ISBN 978-1-775 2567-5-5
Essays | Translation | Feminism | Decolonial | 
What are the histories, constraints, and possibilities of language in relation to bodies, origins, land, colonialism, gender, war, displacement, desire, and migration?
Moving across genres, memories, belongings, and borders, these luminous texts by poets, writers, and translators invite us to consider translation as a form of ethical and political love – one that requires attentive regard of an other – and a making and unmaking of self.
"Translation, here, is decolonial feminist work."
– from the Foreword by Françoise Vergès
REVIEWS & COMMENTS

River In an Ocean is a sublime and urgent book that illuminates the heart of the politics of literary translation, makes its inroads and inner workings graspable, and unflinchingly discloses its human face through vivid testimonies which are scholarly and speculative, personal and political—all in varied lenses from human geography to memoir, from cultural poetics to the personal essay, from historical linguistics to reportage – Alton Melvar M. Dapanas, The Shanghai Literary Review
When a feminist translator responds to her calling, the world is enlarged and a better place. This book is exquisite in its scope, and its well-thought out approach to translation –
Dr. Wangui wa Goro, Public intellectual-activist, translator of

Véronique Tadjo

and

Ngũgĩ wa Thiong'o.
Reading these rich, personal and lyrical essays allowed me to connect with the lived experience of translation. Each author shares not only a passion for language, but also their experience with the sound, taste, smell, music, and even posture, of various languages of the global South. Examining histories of linguistic repression and contempt, their words reflect on decolonial and feminist practices in translation while celebrating the beauty and the possibility of language, its ecstasies and its efflorescence, and what it means to live between tongues. – Dr. Mehr Farooqi, Author, Ghalib: A Wilderness at my Doorstep.
A powerful exploration of the complex and pressing issues facing translation now. With a deep commitment to interrogating the act of translation from the ground up, this volume tackles questions of translatability and resists regimes of monolingualism and borders. These politically charged essays offer a much-needed nourishing approach to translation, bringing acute attention to the processual in translation. For anyone interested in the power and politics of translation in our world today, this collection is a must-read. – Dr. Dima Ayoub, Author, Paratext and Power: Modern Arabic Literature in Translation. (forthcoming)