BOOK LAUNCH: THURSDAY JUNE 8, 2023 | 7-9 pm
What are the histories, constraints, and possibilities of language in relation to bodies, origins, land, colonialism, gender, war, displacement, desire, and migration?
Moving across genres, memories, belongings, and borders, these luminous texts by poets, writers, and translators invite us to consider translation as a form of ethical and political love – one that requires attentive regard of an other – and a making and unmaking of self.
As seating is limited, please RSVP via Eventbrite -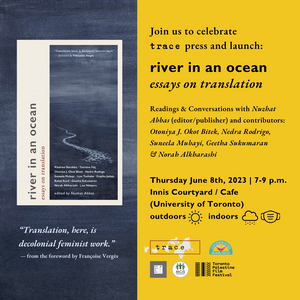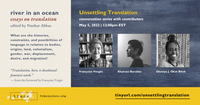 UNSETTLING TRANSLATION a conversation series
Each Friday in May, we gathered online for readings & conversations with the poets, writers and translators who contributed their words to this anthology.
Pre-order the book
April Poetry Month with trace: Translating [x]
trace: translating [x] ARABIC
On April 28 we celebrated with the participants of our 2022-2023 Arabic literary translation workshops
trace: translating [x] TAMIL
On April 22 we celebrated with the participants of our 2022-2023 Tamil literary translation workshops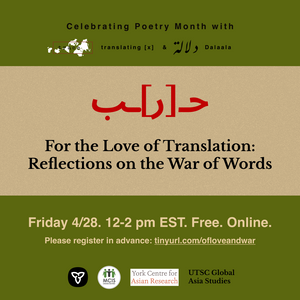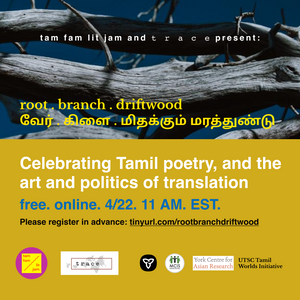 At a time of unprecedented global change, t r a c e invites writers and readers to build community and solidarity through small books and events.

Your donations allow t r a c e to publish new manuscripts that illuminate the complex spaces, times, and languages we live in.

t r a c e prioritizes the voices of those who have, themselves, experienced war, conflict, displacement and migration. We value the voices of those historically marginalized within the inequitable publishing cultures of North America. t r a c e is a not-for-profit press.
locations / displacements
We ask our writers, translators, artists, and readers to question borders and unsettle various forms of local and global colonialism and coloniality. We are grateful to do our work in Tkaronto in solidarity with diverse indigenous peoples from across Turtle Island who continue to gather upon the traditional lands of many nations including the Mississaugas of the Credit, the Anishnabeg, the Chippewa, the Haudenosaunee and the Wendat.

This territory was the subject of the Dish With One Spoon Wampum Belt Covenant, an agreement between the Iroquois Confederacy and Confederacy of the Ojibwe and allied nations to peaceably share and care for the resources around the Great Lakes.